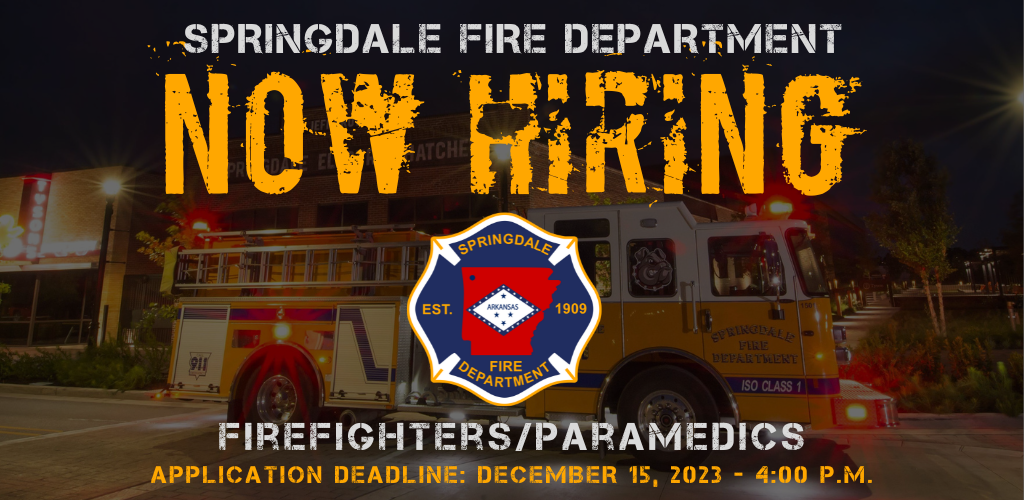 **NOW ACCEPTING APPLICATIONS**
Interested applicants should review the Application Process outlined below.
Paid Firefighter I/II and EMT Training

LOPFI Pension

Health, Vision and Dental Insurance

457 (b) Deferred Compensation Plan
Holiday Pay

Automatic FLSA Overtime

Certificate Pay

48/96 Schedule
18-34 years of age (exceptions for persons meeting the criteria outlined in Arkansas Code 14-51-301, for more information contact the Fire Department)

High School Diploma or Equivalent

Valid Drivers License

Legally eligible to work in the United States
Applicants must complete a Job Application on the City of Springdale Website and provide the following documents within their application, prior to the application deadline
HS Diploma or equivalent

Current Drivers License

DD-214 (for applicants with prior military experience)

CPAT Certification (can be attached to the application once completed)
In addition applicants are also encouraged to attach any professional licenses or certifications if available
NREMT and State EMS License/Cards

IFSAC or Pro-Board Firefighter Certifications

Professional Resume
To complete a Job Application on the City of Springdale Website click the link below:
Step 2: Complete the Required Entrance Examinations
Written Examination: FireTEAMS Test
Applicants must register and pass the FireTEAMs written examination, administered by the National Testing Network (NTN). The NTN offers flexible options for completing the exam; including both virtual and in-person testing. In-person testing is administered locally in the NWA area through Northwest Technical Institute in Springdale. Applicants must achieve a passing score on the FireTeams written test in order to be eligible for hire. (See local dates/ times below)
The minimum passing scores for this examination are: 70% Human resources, 60% Mechanical Aptitude, 80% Reading and 70% Math.

The cost of the examination is $55.00 (Payable to the national testing Network)

Select "Springdale Fire Department" to receive your scores. Upon completion scores are sent directly to the Springdale Fire Department
For more information or to register/schedule a FireTEAMS test visit the National testing Networks website below:
Physical Abilities Test: Candidate Physical Ability Test (CPAT)
Applicants must register and pass the Candidate Physical Ability Test. The CPAT is a validated and nationally recognized test to assess the physical abilities of firefighter candidates. The test is offered locally through the NWA Metro Chiefs Association and is administered at the Fayetteville Fire Department Training Center. (See local dates/ times below)
Applicants must have a current CPAT card at the time of hire. (CPAT certification is valid for 1 year of completing the test)

The cost of the test is $95.00 (payable to NWA Metro Chiefs Association)

Applicants must upload a copy of their CPAT card to their online application portal prior to the application deadline.
For more information or to register/schedule the CPAT visit the NWA Metro Chiefs website below:
*Applicants outside of the NWA Metro area: both the FIRETeams Exam and CPAT are nationally recognized tests and can be taken at hundreds of certified testing sites throughout the United states.
The department will review all applications to ensure they are complete and that all required tests have been completed. After this review, eligible candidates that have met all application requirements (Job Application, NTN Exam, CPAT) will be scheduled for Fire Department and Civil Service Interviews.
For additional information or questions please contact the Springdale Fire Department Training Division
(479) 750-8510
Email the Springdale Fire Department Training Division